keeping my cool…in the kitch
man it is hot outside
I love it
better to be hot than cold
but today…sorta ridiculous with the heat index 110 @8AM
this morning I realized
after the last week in the kitchen
testing..and testing recipes
I just want to keep my cool…
in the kitch
what does that mean?
well now that I am trying my best to eat well
not diet…just eat well
because dieting never works
BELIEVE me! (you all know I am saying the truth!)
Since Monday I have made myself a promise…
I am determined to think before I eat
plan my menu out…instead of scrounge
when I am hungry
but today..I am keeping the ovens OFF
the challenge…making delicious food
that is satisfying…yet requires no cooking
and Tunie B will actually eat with me!
i got this covered…a piece of cak.. carrot 😉
Have an awesome day all – me & Tunie B will!!
xxx Sarah
ps.. I am trying to build this site..and I can use all of your support. So if you like what I am doing please like my page on Facebook, join me on twitter and or subscribe to my emails. Much appreciated!! You can also follow me on interest and instagram
Here is Today's Keep it Cool Menu:
Breakfast:
Watermelon Feta Salad
This salad satisfies both my sweet and savory tastebuds as well as being perfect for breakfast. After a nice size plate of this salad, i am good to go.
I know rules say that you should eat most of your calories and protein at breakfast, but I find I like to keep breakfast on the lighter side, I am just not that hungry in the morning.
Recipe:
½ seedless watermelon, sliced into bite-size chunks
1 cup feta cheese, crumbles
For the Lemon Vinaigrette:
¼ cup fresh lemon juice
2 Tbsp. olive oil
 1 ½ packets Splenda or 1 Tbsp. sugar
Pinch of kosher salt
 Fresh mint for garnish
It is best to plate each salad individually rather than mixing it all in a large bowl; the feta tends to melt when you add liquid.
On each plate, place a generous amount of the bite-size watermelon. Sprinkle chunks of the feta cheese on top as you desire. In a separate bowl whisk together the lemon juice, olive oil, and Splenda. Drizzle lightly over the watermelon and feta; top it off with a sprinkle of kosher salt. Garnish with fresh mint and serve.
lunch:
Smashed Chickpea & Avocado Sandwich
Usually it is lunch time that I am starving and most times I am never home and have not thought ahead. Sadly to say most times I push off lunch till later in the day and have a lunch supper with Tunie..then another supper by myself. So not good!!!
Today I am planning ahead and packing lunch for me and Tunie as we go have our first summer day off together…NO SCHOOL – HELLO BEACH!
This is a great sandwich recipe that I got from www.twopeasandtheirpod.com (a really great blog!)
And because Tunie B. will eat ANYTHING with Avocado…she wolfs this lunch down every time I make it for her!
recipe:
1 (15 ounce) can chickpeas
1 large ripe avocado
1/4 cup fresh cilantro, chopped
2 tablespoons chopped green onion
juice from 1 lime salt and pepper, to taste
bread of your choice fresh spinach leaves or other sandwich toppings: lettuce, tomato slices, sprouts etc..
dinner:
Spinach Salad with canned Salmon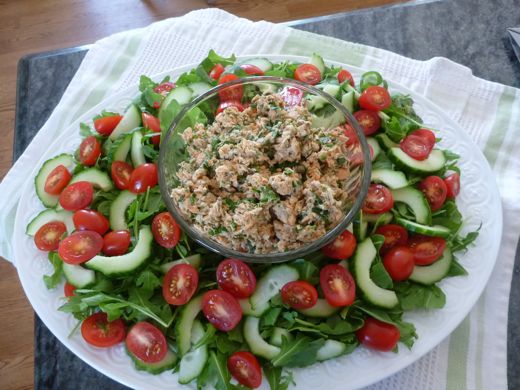 I find that I enjoy canned salmon more than Tuna, and so does Tunie B. (ironic considering her name lol) She eats hers with pretzel chips and the veggies. I eat mine topped on a bed of Spinach leaves with more avocado & cherry tomatoes.
Tip: to keep my dressing under control I have these 2oz plastic cups that you get in the stores when you buy a salad. I refill them and viola…instant portion control.
recipe:
1 can salmon
3 tbsp. mayo
1 tsp. garlic powder
1 tsp. kosher salt
1 tsp. fresh black pepper
2 tbsp. fresh parsley, chopped
1 tsp. curry (optional)
Spinach leaves
cherry tomatoes
avocado
Mix the canned salmon with the mayo and spices.  Plate salad according to taste.
For dessert:
Because in my house there is ALWAYS dessert! – My favorite thing…Frozen Banana.
Frozen banana tastes exactly like ice cream and is super delicious..if you have never tried it…well do it SOON!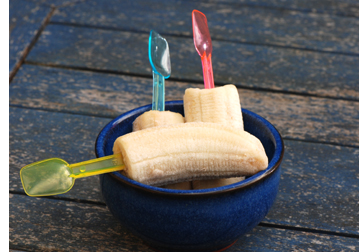 And of course no day goes with out a snack!
These days I have found a new bar that I love that has great flavors and has anywhere between 150-210
calories depending on the flavor.
You can find these all over your groceries and local starbucks!
I am also a huge fan of the simply bars – but have not seen them in my local grocery lately.